The CATlinks section is available for scopists, reporters, etc. to get connected to vendors and their user groups for professional support, queries, etc.
---
Free Downloads | CAT Vendors | Associations | Steno Theory | Scopist Training| Home
(Select from above or scroll down)
RealLegal's Free E-Transcript Viewer. Just like with the popular Adobe PDF Viewer, after you have downloaded the E-Transcript Viewer once, you can open any RealLegal E-Transcript file you receive. Great for accessing past transcripts to create wordlists, etc. when scoping or reporting ongoing cases.
This is the same viewer attorneys use to read E-Transcript files received from their court reporters.
---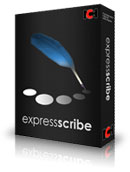 Express Scribe -- (Download Page) Express Scribe is professional audio player software for PC or Mac designed to assist the transcription of audio recordings. It is installed on the typist's computer and can be controlled using a transcription foot pedal or using the keyboard (with 'hot' keys). This computer transcriber application also offers valuable features for typists including variable speed playback, multi-channel control, file management and more. This program is free.
---
FREE FTR Player downloads, as well as service packs and version upgrades. Four-track audio transcription system used by many courts.
---
Visit the Advantage Website - the Makers of Eclipse, Nova Billing (for reporters), AccuCap, and so much more!
---
Stenovations' Main Website! Downloads, support, freebies, etc.
---
Visit Cheetah International, makers of SmartCAT software, as well as many utilities.
SmartCAT™(TurboCAT™ for Windows) is the state-of-the-art Windows software for Court Reporters who need a fast, simple, comprehensive program to produce professional transcripts quickly and easily.
SmartCAT™ - No-risk free trial. Try SmartCAT™(TurboCAT™ for Windows) free for 7 days. Visit site for details.
---
Gigatron Software Corporation - Bringing you StenoCAT! Visit this Website for Free Online Updates for your StenoCAT system!
Open StenoCAT Demo Available for Download at their Website.
---
Visit the Stenograph Website! Stenograph brings you Premier Power, CaseCatalyst and other CAT and reporting related software and products, including supplies!
---
Visit the ProCAT Website! Info on their Winner Windows-based CAT system available here!
Winner CAT Demo Available for Download at their Website.
---
| | |
| --- | --- |
| | Visit the NCRA's Internet Site! Includes a member directory, library, official news and announcements, and much more! |
| | The United States Court Reporters Association! The association of federal official court reporters! Includes a message board, library, etc. |
STATE COURT REPORTERS ASSOCIATIONS
StarTran- A complete theory program, written by an NCRA Certified Reporting Instructor.
Basic Theory
Advanced Theory
Reference Volume
CAT Dictionary
Teacher's Volume
Audiotapes
Computer Tutor
NCRA APPROVED
---
"FINALLY, a comprehensive program which:
Tells you HOW to write shorter, simpler, conflict-free machine shorthand; Shows you exactly WHERE, WHEN and HOW to modify your present writing theory; Provides the reading/writing exercises which make it possible for you to reprogram existing muscle memory and automatic responses and ACTUALLY INCORPORATE THE NECESSARY CHANGES INTO YOUR WRITING!!"

Includes the additional features necessary for true realtime machine shorthand!

---
U.S. Career Institute - Legal Transcription/Scopist Diploma at reasonable prices. Comprehensive training.
---
ScopingCareers.com: Judy Barrett's scoping training course - now celebrating its 20th year of successful operation - features an integrated on-line, video/audio distance-learning program, leading to computerized text editing of transcripts for court reporters. Comprehensive, self-paced lessons are supplemented by close personal mentoring and consultation, during both study and marketing phases. This "tried and true" program provides every needed element to prepare you for success in this most rewarding home-based career, including referrals to court reporters seeking scoping assistance.
To learn more about scoping, read Judy Barrett's article, posted at the top of this web site, or send an e-mail to scoping@primemail.com for that same article and other supplementary materials about her training curriculum.
---
"BeST" Scoping Techniques - Best Scoping Techniques (BeST) is a self-paced on-line scopist training program presented by Cathy Watson and Judy Rakocinski that will teach you all the skills necessary to become a successful scopist. Visit the website at www.BestScopingTechniques.com for a tour and detailed information.
---
Internet Scoping School is the first Internet-based, online scopist training course and has been in existence since 1998. It is not only the most comprehensive training course available, it is also the only scopist training course that actively advertises and provides marketing opportunities for its graduates.
This course offers training in all the essential elements of being a scopist, including notereading, transcript production, marketing, ethics, ergonomics, time management, commonly made mistakes, computer care, Case CATalyst software training, and much more.
Please explore our site to learn more about scoping, and to find out if you possess the aptitude and skills that could make scoping the career for you!
---
Scopist Training - School Directory
Alvin Community College (Houston, TX)
Cerritos College (Norwalk, CA)
Chattanooga State (Chattanooga, TN)
Flint River Technical College (4 Locations in GA)
GateWay Community College (Phoenix, AZ)
Georgia Department of Technical and Adult Education (Atlanta, GA)
Green River Community College (Statewide in Washington)
Kilgore College (Longview, TX)
Pennsylvania Highlands Community College (PA)
Sparks College (Shelbyville, IL)
Stautzenberger College (Toledo, OH)
Trident Technical College (Charleston, SC)
West Valley College (Saratoga, CA)