Copyright 1996-2014 - All Rights Reserved - A Service of Logical Resources, Houston, TX
The First Scopist/Proofreader/Transcriptionist Directory, B2B, and Info Site on the Internet is Still the Largest!
Please Scroll Down to See All our Features in Detail!
---
QUICK-JUMP LINKS
Reporters: Find Local and Online Scoping, Proofreading or Transcription Support! Scroll Down or Click! - Our Directory has over 1500 listings!
Or Post a free listing in our Employment classifieds and have them contact you! Click Here!
Or Post a non-published Discreet Query and have them contact you without posting publicly! Click Here!
* * * * * * *
Scopists, Proofreaders and Transcriptionists can get listed for free in our Directory! Click here!
Or peruse our Employment Listings for the latest offerings! Click here!
Or Subscribe to have our public and NONPUBLIC job listings delivered to you via email! Join our Trade Leads System!
(It's the only way to receive our Discreet -- unpublished -- Job Leads! Over 350 members!)
* * * * * * *
Interested in becoming a scopist? Click here for Introductory Info on the profession!
Interested in becoming a court reporter? Click here for school, training and career info!
Scroll down for additional info on all our features!
---
Find a Scopist, Proofreader or Transcriptionist -- Single Projects, Overflow, Temp-to-Perm, or Permanent!
Use our Freelance Directory, Employment Classifieds, or Email Query System! They're free!
If you're a Freelance Scopist, Proofreader or Transcriptionist, get your free listing in our Directory!
Please scroll down for more information. If you don't see a menu bar at the top of this window, click here.
---
-- OUR MISSION --
Since 1996, Scopists.com has been dedicated to the support of professional court reporters, scopists, proofreaders and transcriptionists by providing connectivity, reference resources, word lists, employment opportunities, vendor and association links, pertinent news, and just about anything of use to reporting professionals and their support staff.
For those interested in the scopist profession, we're dedicated to providing quality articles and links to overviews and educational materials.
Court reporters, counsel, videographers, etc. are all invited to use these pages both for reference and as a directory of scopists, proofreaders and transcriptionists who are available for assistance.
---
What do others say about Scopists.com?
"Wow, what a response I got ... Thanks" - L.B., CSR (Trade Leads Poster)
"It has been a great help! Thank you so much!" - E.M., CSR (Trade Leads Poster)
"thank you so much for the opportunity to post an ad for a scopist. the response was awesome. I got what I needed ..." - G.G., CSR (Trade Leads Poster)
"I had a great response to my ad seeking a proofreader ..." - N.S., CSR (Trade Leads Poster)
"I really appreciate your service!! I get several inquiries every week ... thank you for a wonderful service." - S.W. (Freelance Directory member)
"Thank you very much for keeping my listing. I really appreciate your help in keeping my business going. Thank you again." - M.P. (Freelance Directory member)
"Thank you so much for hosting this site! It has been essential to my business as a scopist ... please remove me ... I have enough work to keep me busy and am turning people away!" - C.B. (Former Freelance Directory member)
---
- Quick Reference (scroll down for site details) -
Court Reporters -

To Find a Scopist, Proofreader or Transcriptionist:

Scopists, Proofreaders, Transcriptionists -

To make your services available:

General -

All Areas are free!
Use the Menu Bar at the top of your screen, or
scroll down to view all our Areas.

Prospective Scopists -

To Learn More:

Scroll down for introductory info!
Visit our CAT links for equipment info!
Visit our Marketplace for educational products!
Employment Outlook: Scoping and Transcript Proofreading are not directly tracked by the Department of Labor, but Court Reporting is. Since Scoping and Transcript Proofreading are support services of Court Reporting, we expect employment outlooks to trend similarly. Link: U.S. Dept. of Labor - Occupational Outlook for Court Reporters, Stenographers & Transcriptionists
Site Detail
Reporters - Find the Perfect Scopist, Transcriptionist or Proofreader For Your Needs! Simply click below:

Peruse the Freelance Directory - Over 1,200 scopists, proofreaders and transcriptionists, arranged by State and City, with detailed experience, equipment and contact information! Supports your browser's keyword search function. You can search your area first, then work your way out; or you can search for specific CAT systems, services (like "proofreader"), etc.

Place a Discreet Query (A Trade Leads posting) - A free service! Our convenient form lets you find just what you're looking for without posting publicly. Queries are forwarded to participating freelance scopists, proofreaders and transcriptionists who are currently receiving new clientele. Quality is assured because your Discreet Query posting is received only by professionals who have purchased a subscription to this service! You'll reach over 150 active subscribers dedicated to the profession!

Place a Free Listing in our Employment Classifieds (A Trade Leads posting) - Online employment positions for scopists, proofreaders and transcriptionists are posted publicly on the 'net and forwarded to our Trade Leads subscribers via e-mail. Reporters can enter their requirements by filling out a convenient, comprehensive, free form. If you can't find exactly what you need, our Employment classifieds are surely the answer!

And don't forget to check out our other areas, listed in the right-hand column on this page and available through the menu bar at the top of this screen. We've got links for research, CAT vendors, equipment suppliers, associations, news and more!

Scopists, Proofreaders and Transcriptionists:

Scopists who are seeking additional clientele or employment are encouraged to submit their info for posting in our Freelance Directory, a free service. Also, you can participate in our Trade Leads Program, a fee-based subscription service delivering job leads to reporter-support professionals.

Our Freelance Directory, online since 1996, is a listing of freelance scopists, proofreaders and transcriptionists and provides detailed information about your services, experience, and the systems you support. This directory is organized by state and city, and it's completely searchable. Listings are free, so submit yours if you haven't yet! Simply visit the directory and follow the link to submit a listing. But don't forget to keep your listing up to date, because this directory is checked periodically for bad e-mail links, and all bad listings are purged. Simply visit the directory and follow the link to submit a change to your listing.

Our Trade Leads Program is a fee-based annual subscription, available for purchase online. For those who wish to grow their business, it's a convenient and affordable tool. Once subscribed, you'll receive every employment listing submitted to our Employment classifieds, Plus you'll receive all postings through the Discreet Query system, a method for allowing reporters to connect with support personnel without having to place a public listing on the 'net. Since these listings are not public, competition for these positions is generally limited to the Trade Leads subscriber base. We usually process about as many Discreet Queries as we do published Employment postings.

Intros and Primers for Prospective Scopists:

Introduction to Scoping - For prospective scopists, or just the curious. General overview, plus some important prerequisites, habits, etc. Fairly comrehensive.

Scoping: Its History and its Future, by Judy Barrett - Scoping information, insights and introductory information by Judy Barrett, owner of Scoping Careers International, an Internet-based scopist training school (ScopingCareers.com) which has emphasized one-on-one tutelage for nearly two decades.

Scopistry - an In-depth Look at the Scopist Profession - Want to know more? Scopistry is an eBook produced by Scopists.com which we've now converted to a FREE mini-Web! Thousands of copies sold for up to $16.95, we've now made it available free of charge!

Scopistry is designed as a primer for prospective scopists and includes an in-depth examination of the position of scopist, work samples, employment and training options. Equivalent to 106 pages in hard copy.

Scopist/Court Reporter Schools

Additional materials, school and course info can be found in our CATlinks and Marketplace sections.

General and Professional Support:

Our Reference section is specifically designed for reporters, scopists, proofreaders and transcriptionists. Designed to be both quick and comprehensive, this section is constantly updated for glossaries, legal search engines, and new legal reference links. Great for both court and deposition work. Take a look today!

Our CATlinks section is a one-page directory of CAT vendors and reporting associations, designed for quick support contact.

Our Free Forums are designed to allow for peer-to-peer support and connectivity and is generally viewed by support personnel from major CAT vendors who can give quality advice.

Free Classifieds - Our Classifieds are targeted to reporters, scopists, proofreaders and transcriptionists. Currently available areas are Employment, for positions available; Items For Sale, and Items Wanted.

Visit our Marketplace to find equipment, products and supplies which are targeted to the reporting, scoping and transcription professional, as well as Educational and Training products and courses for prospective scopists and intros and primers for those curious about the profession.

Our Library section posts news and info regarding the legal transcription profession.
Webmaster's Choices - Free Software, Fully Functional - Must-have Packages!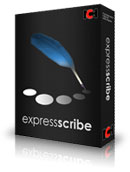 Express Scribe Player (Download Page)
Express Scribe is professional audio player software for PC or Mac designed to assist the transcription of audio recordings. It is installed on the typist's computer and can be controlled using a transcription foot pedal or using the keyboard (with 'hot' keys). This computer transcriber application also offers valuable features for typists including variable speed playback, multi-channel control, file management and more. This program is free.
---
USB Foot Pedals
---
| Privacy Policy | E-mail us: webmaster@scopists.com
ADVERTISING INFORMATION:
Limited banner slots are available at Scopists.com - Advertising Info & Rates
Site Mission:
Scopists.com is a free site for scopists, reporters and others in the legal fields to gather and exchange ideas, offer services, and generally help each other in their professional pursuits. Scopists.com is designed to be both a users' group and a valuable reference tool for the profession. All listings in the Scopists.com system are free of charge. Please see each respective directory for instructions on how to place a listing. Once listed, it is the submitter's responsibility to provide updated information. If you find an outdated listing, please report it to Scopists.com. Scopists.com makes no representation of accuracy as to any posting found in its site.
Scopists.com is always glad to receive word lists, news bits, and even articles of interest to the profession, for posting. We also welcome any suggestions or feedback. To offer submissions for word lists, articles for posting, or for feedback, suggestions, or to report a problem, please e-mail to Scopists.com.
Scopists.com is not responsible for contributed content; nor is Scopists.com necessarily endorsed by, or indicating endorsement of, any other web site represented herein. These other links are provided as a convenience only. Scopists.com is not an official association; rather, it supports free communication and takes a neutral position regarding information submitted. Scopists.com is not affiliated with the NCRA or any other reporting association.
---